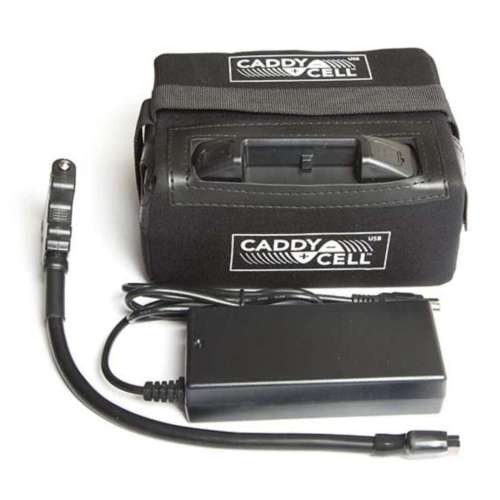 Caddycell Lithium Battery
This incredibly light Lithium Ion polymer battery (LiFePO4) from Caddy Cell is one of the safest, most advanced batteries you can buy.
The all new Caddy Cell 16ah lithium golf battery is purpose
designed for use on any golf trolley that currently uses a 12 volt lead acid battery, no changes or alterations needed.
  Weighs just 2.1kg and measures 167mm x 125mm x 75mm to offer the smallest, lightest battery you could ask for
  Lasts up to ten times longer than a standard lead acid golf battery
  75% lighter than a standard lead-acid golf battery
  1/3 the size of a standard lead acid golf trolley battery
  Complete with connector to fit PowaKaddy, Hill Billy, MotoCaddy and anything in between!
  Controlled by Battery Management System to avoid over charging, balance cells and give long trouble free life
  Fully charges from empty in around 3 hours
  Full 3 year guarantee when purchased after March 1st 2015
  Supplied with purpose designed battery charger, Neoprene pouch, adapter cable and guarantee card
Caddycell Lithium Battery