The New Golfstream BLUE has been developed to provide an entry level electric golf trolley that is as simple to operate as ABC. No bells and whistles, no screens or programming, just on/off faster/slower - what could be simpler?
Modelled on the best-selling Golfstream VISION, the BLUE offers the same sleek design, super easy erection and fold down but with just an indicator light to show power to the motor and a rotary dial to increase/decrease speed. In truth, just like golf trolleys used to be.
Like its big brother, we have added proper PU rubber tyres that are super quiet, and we have arranged to hold the bag with two side arms rather than perching on the central spine. Add to this an exceptional price point and we think you will agree that this is an entry package you just can't ignore.
  Folds flatter than all main competitors' trolleys.
  Bright Blue LED power light.
  One touch super simple fold/unfold.
  Holds the bag beautifully without "perching" on the central beam to avoid bag wobble.
  Non clogging design front wheel housing.
  Full livery colour swaps available.
  Super slick high grip quiet tyres
  Super quiet powerful drive train for an uninterrupted round
  Sleek power platform to take all popular 12v batteries
  Supplied with CaddyCell LiFePO4 lithium battery as standard
  Magnetic hold together latch for quick and simple hold
  Battery strap doubles as a hold together strap
  Designed in the UK for simple reliable operation
  Two year parts and labour guarantee, 3 years on lithium battery
  Available without battery and charger if desired
  Battery tray is 175mm x 185mm x 25mm high
  Folded dimensions approx. 595mm W x 285 H x 865mm L and weighs 9kg without a battery
  Hedgehog wheels are the same as the older Golfstream Hedgehog wheels should you already own a pair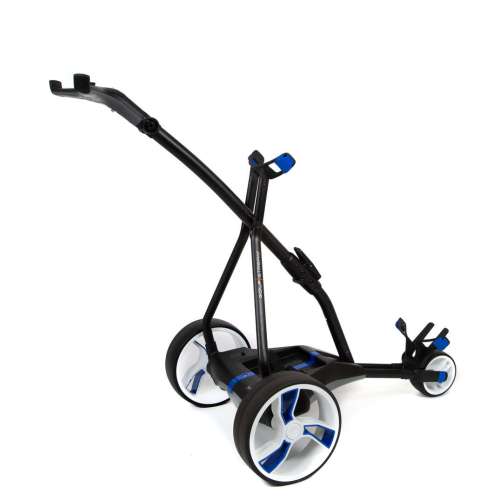 An 18-hole lithium LifePO4 battery, which is supplied as standard, sits in a sleek power platform that is conveniently designed to take all other popular brands of batteries.
As with all Golfstream trolleys, the Vision holds your golf bag firmly in place by using the side arms, rather than balancing it on the central spine as most others do, avoiding unnecessary 'bag wobble' over bumpy ground.
A non-clogging front wheel housing, combined with easily detachable main wheels, ensures that cleaning and servicing is also a simple task. The button on the handle enables the Vision to be programmed for left and right-handed use and provides access to a distance control function, with speed increments of 0.5, enabling the speed to be perfectly matched to a golfer's walking pace.
The new bright, clear, large numerical 3 inch L.C.D. , white screen with black numerals can be personalised with a golfer's details, whilst there is a 'simplicity' mode, also accessed through the button on the handle, for golfer's who just want to get on with their game with the minimum of features.
For complete customisation, the whole colour scheme can be quickly swapped to any one of five colours from Golfstream's new accessory range. The Golfstream Vision, which comes with a two-year parts and labour guarantee represents great value for money for golfers that demand total performance and reliability from their power trolley.
  Folds flatter than all main competitors' trolleys
  Revolutionary Caddy White screen can be seen easily even in full sun
  One touch super simple fold/unfold
  Holds the bag beautifully without "perching" on the central beam to avoid bag wobble
  Non clogging front wheel housing
  Full livery colour swaps available
  Super slick high grip tyres
  Longer lasting tyres (5 times longer life than normal EVA)
  Distance control function
  Speed increments in 0.5 to get the perfect speed to match your pace
  Fully programmable left handed operation
  Personalisation of the main screen to allow names
  Simplicity mode for those who don't want the fancy extras
  Super quiet powerful drive train for an uninterrupted round
  Sleek power platform to take all popular batteries
  Supplied with LiFePO4 lithium battery as standard
  Magnetic hold together latch for quick and simple hold
  Designed in the UK for simple reliable operation
  Two year parts and labour guarantee, 3 years on lithium batteries
  Available without battery and charger if desired
  Patented one-touch, easy-fold mechanism that makes the Vision the simplest trolley to set up and fold away in the world
  Small fold down size making it one of the most compact trolleys in its class in the market today
  Magnetic latch that holds the trolley together in the folded position to make carrying and transporting the Vision hassle-free
  High-grip slick PU tyres that are five times more durable than normal tyres providing a super-smooth, cushioned ride for your clubs and valuables
  200v whisper-quiet motor that will carry your clubs with ease across all terrains
  Dimensions; Back axle width 595mm-Length 865mm-Height 285mm
  New Waterproof Golf bag now available